Chapter 2  Road Trip!!
So, much as we hated to we had to leave Colorado—something about mom has a job and can't just take off forever. Sigh, we were soooo sad to leave Wyatt Ray. What a baaaaad boy! I just love bossing him around and seeing him pin his ears back and roll his eyes in fear! Man, Wyatt and his pawrents sure got down and showed us the bestest time! We totally dug it!
Pops likes to just get on the road in the Tripawdmobile and put the pedal to the metal so we made it home in two days. But we took a little time along the way to show Barney and Floyd a good time…….Four states in one day! We'll have to check fur sure but I don't think Barney has been to Wyoming, Utah, or Nevada before. So here's the proof!
Here's Barney and Floyd at the Great Divide Basin in Wyoming. We wanted to stop at the Continental Divide but there wasn't an exit. Whattup with that?!?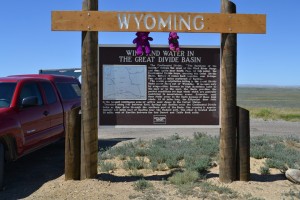 Here's Barney and Floyd at the Bonneville Salt Flats in Utah!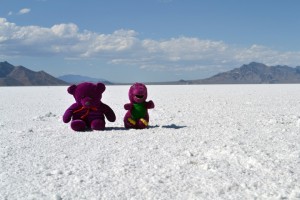 Ooooh, don't get left behind Barney!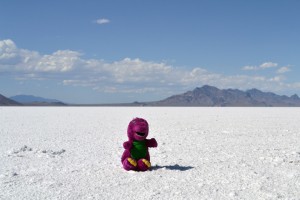 Where the heck did Foyd go???
Here's Barney at the Gold Country Casino where we stayed in Elko, Nevada. What a great place—three dogs? No problem! We're thinkin' Barney has a little problem—he spent all his time in the casino!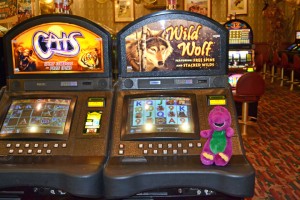 Here's a dead antelope on the wall at the casino-we saw lots of those on our trip through Colorado and Wyoming but they were all alive….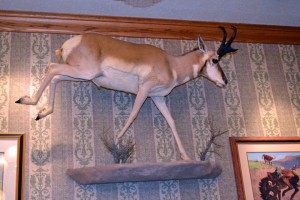 Yo! Whattup wit' dose I-80 rest stops? The peeps get to play on the soft cool shady grass……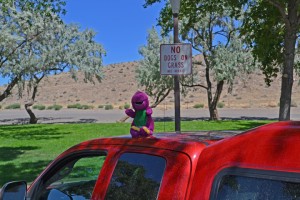 …….and us K9's hafta pee in the hot sun and dodge nasty poky puncture vine! So. Not. Fair.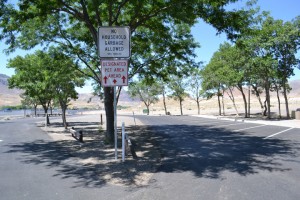 Dawg, were we tired when we got home…….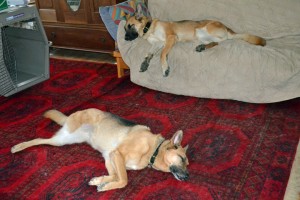 Stay tuned for the final chapter of Barney's adventures with the Oaktown Pack……….