What a ride the last few months have been! It started early in the morning of January 10 in East Oaktown. Papa got us up at 2:30 am! He dressed me and Travis Ray in our Paco Collars, and loaded us into the Tripawdmobile. We were rolling away from the house at 2:52 am! Never done that before and I decided to be quiet and take it all in. 'Specially 'cause it was pitch black and I couldn't see anything that needed regulating!! By the time it started getting light we were climbing the hill they call the Grapevine. We stopped in Gorman, a lovely little spot, for a pee break and some breakfast. Really cold and frosty, and it had snowed a couple days earlier. Further along we turned and headed towards Hollywood! Next thing you know we were on Mulholland Drive and we turned off and into a park.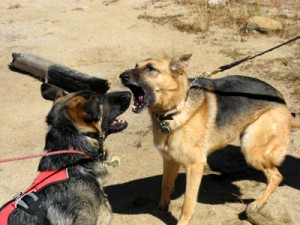 When we arrived, Wyatt Ray Dawg was there with his pawrents, and I gave him my usual warm greeting. It was pawesome to see him and Jim and Rene. Wyatt has grown into such a handsome young dawg! Not like the days of Hammertime!  Oh no! We also got to meet Joe, the video dude, with two assistants and they had this big, really cool looking camera. Joe pulled out a jump made of PVC pipe, very much like the ones we have at home.  Those got built when Smokey, who can jump like the guy in the video on the pogo stick, was going to agility classes. When he practiced, I got to do it too and learned about how to go between the poles and over whatever was in the way.
We walked across the park, and there were a lot of dogs there that needed regulating, but we had other work to do. First Wyatt ran across the park while they recorded him. Then I did it too. We each did it a few times and then Joe set up the jump.  Wyatt and Travis never had practiced this kind of thing and did not know what to do. They asked me to jump, but I ran around the jump three times. Then somebody got smart and put the verticals on the ends of the jump so I had something to go between. One take and we were done. Joe and his crew reviewed it and acted like they had what they needed. Something about the camera was expensive to rent. Maybe it was by the second or minute or something–I know it costs a lot to do things in LA. Anyway, they were outta there. After a little while we left the park and got lost in the hills before we found our way back down and stopped for a coffee break. Travis and me had to stay in the truck. Once we hit the road I got back to regulating, especially those cattle along I5, just after the Grapevine. We drove right back to Oaktown and were home by 7:00. To Hollywood and back in one day! TR and I didn't know which way was up!
It ends up we had gone to shoot a music video, but we had to be quiet about what we had done. We were not even sure who it was for.  February 28th we got a call from Tripawds headquarters that the video was out and I was the star! Patrick Stump's "Spotlight (Oh Nostalgia)" video was out on YouTube and I was featured doing my stuff!
Then on March 10 we went back to the Oakland Animal Shelter where I had been left for dead 5 years ago. Back then I was living in a yard in East Oakland and someone tied me to something with wire. With all the activity in the neighborhood, what was a young pup to do but bark and spin and bounce at the end of my tether. Well that damn wire wrapped around my leg and it hurt like heck! The stupid people I was staying with took me to Oakland Animal Services and "surrendered" me and said to have me "put to sleep" because I was in pain. The good people at OAS found a wonderful doctor that got rid of the pain by amputating my spare leg. Then German Shepherd Rescue of Northern California got me out of there and to where I am now, head of the Oaktown Pack.
At the shelter we met with GSRNC folk Mike W., and JJ. JJ was the person who got me out of the shelter back in '06. We met with a reporter and photographer from the paper. The following week, on March 19, the Oakland Tribune ran the article titled "Dog abandoned in Oakland is featured in new music video." It even had pictures of me! The Bay Area News Group that owns the Tribune owns many papers in the area, enough that they reach 2.7 million people per week (at least that is what the reporter said). When the article about me came out it was the number one most viewed article of the day on almost all the online editions in the News Group!!!!
Meanwhile, Patrick went out on tour and we learned he was coming to San Francisco on April 15. Try as we might we were unable to arrange to meet Patrick, so we decided to go hang out at the Hotel Utah and see if Patrick was as nice as all those peeps on YouTube have been saying. We had to wait a while on the street in front, and while we did we talked with some of the people working there, including Pat the manager. When she heard our story she said she would pass the word to Patrick. She then said Patrick would stop on his way to the stage. I waited and waited (mostly patiently I might add–NOT my forte)  And then……….he was there: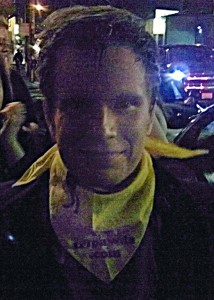 I got to go into the show but it HURT MY EARS so Papa took me back outside. When he introduced "Spotlight" during the show, Patrick mentioned…… Meeeeeeee! Codie Rae!!!!!…….and said people need to adopt special needs dogs, like tripawds! It was sooooooo koool!!!!! After his show Patrick came out on the sidewalk in front of the Utah and hung out with our fans. We gave him the Tripawds bandana  from around my neck and he put it around his! He kept it on while he was hanging out with our fans.  A bunch of them asked to take their picture with me! Some even got their pictures taken with Patrick!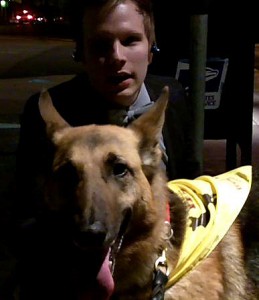 What a pawesome night! I can't wait to hang with Patrick again and now I understand why all the girls like him so much–he was soooo sweet! He scratched my ears and said I was wonderful!  Yesterday our Spotlight video passed 300,000 views on YouTube! When, oh when will Hollywood call again? I am so proud to be representing the Tripawds community and all you tripawd pups and your peeps out there. If just one person sees me and Patrick's video and thinks to themselves…… Hey! I could give a home to a cool tripawd dog like that!……then……..the message has been delivered!!!! Woohoo! Tripawds Rule!!! And I love each and every one of you, yesh I do!!! And if you want my pawdograph just let me know–it really might be worth something someday now that I am finally on the road to stardom!
xoxoxox,