The stars were truly aligned for me. I was dumped in the night box at the   Oakland Animal Shelter with a wire wrapped around my back leg, some say it was barbed wire. When the stupid people who left me there were contacted they said to just put me to sleep, that I was in too much pain. They obviously just didn't want, or couldn't afford, to pay my vet bills. Even though I was in terrible pain, I was still sweet and friendly and shelter staff, recognizing that I was something special, gave me a second chance. The wire had been there long enough for my leg to become infected and it couldn't be saved, but a local veterinarian volunteered to do the surgery for free. He named me Squirrel because I was so full of energy, even as I recovered from my amputation. Shelter volunteers made a special effort to make sure I got extra attention and exercise to help in my recovery.
A month after my surgery my mom and dad saw me at the Oakland Animal Shelter and were afraid I would never get adopted because I only had three legs. They called German Shepherd Rescue of Northern California and said that they would foster me if GSRNC would pull me from the shelter and bring me into their program. They did and my folks immediately changed my name to Codie Rae since they thought no German Shepherd Dog should ever have to answer to Squirrel! My mom and dad pretty much fell in love with me right away but it wasn't until three months later, when, all at once, several different people expressed serious interest in adopting me, that they accepted the inevitable and decided to adopt me. It has been a nonstop ride ever since!!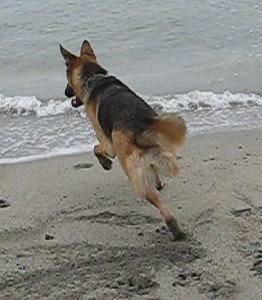 I wake up every morning and say "Woohoo! Ain't life grand?!" I am just one happy girldog! Three legs? Whatever! Not a problem! Since I lost my leg at only 8 months old I have been able to adapt really well. Once I got out of the shelter and healthy I have become fit and strong and beautiful! I was one of the fastest dogs at the dog park (I don't go there much anymore)  and I love to amaze people, who do a double take after watching me fly past all the other dogs and then they realize I am a tripawd. I am an especially intense Shepherd—I should have been in search and rescue—My folks are still trying to figure out the perfect job for me. I was turned down for herding training (tripawds aren't allowed to compete) but I might be able to do agility or tracking, at least for fun. It would be great if my mom and dad would get off their butts and help me to learn that stuff. If I ever settle down they want to train with me to be a therapy team. I used to see a Vietnam vet at the dog park who is missing a leg and his whole face would light up every time he saw me. I like to make my pawrents laugh and smile every single day. I do my duty as a canine teacher—I remind them to never take anything for granted, to make the best of each day, to count all their blessings, and to quit whining!!