So me 'n the Oaktown Pack drove ALL the way to San Francisco yesterday to help out our BFF and honorary Auntie Carla of Paw Patch Pastries. She invited us to a photo shoot 'cause she is redesigning her website 'cause she has a real live store now and she wants new pictures. Of US and her most pawesome baked goods! We got to meet two photographers and there were bright lights and we had to be good and sit in front of the most awesome smelling cake and they told us to leave it and we just couldn't so maw and paw had to hang on to us while they took about a gazillion pictures! Here's what it looked like, can you smell it????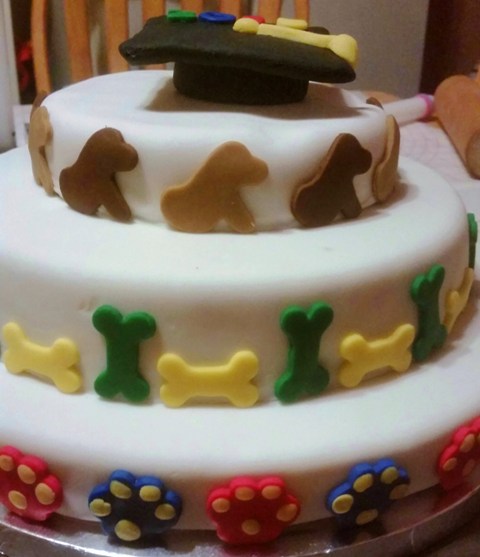 Finally we got to EAT the CAKE! OMD it was SO good! There were three layers 'n each tasted different–there was berries on top 'n peanut butter in the middle 'n liver 'n BACON on the bottom and it had fondant icing and decorations. Can you believe she made all those cute little paws by hand???? Here's what it looked like AFTER we got our teeth into it: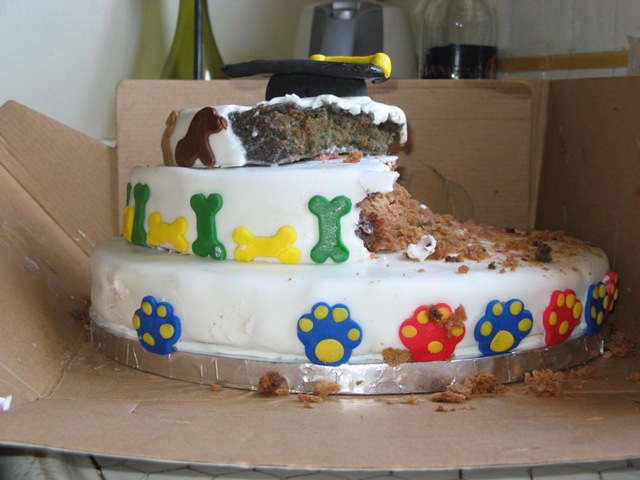 Auntie Carla said she made it special for us and we got to take it HOME with us! We're gonna be eating cake , for a month at least!!!! Woohoo! We loves us our Auntie Carla, she is the BEST! Stay tooned for actual photos of us and the cake, coming soon…….