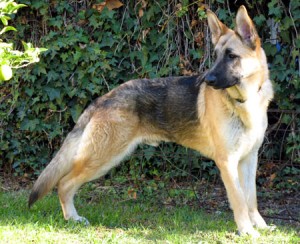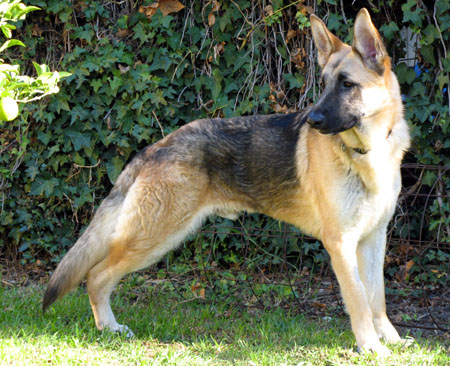 Woohoo!!!!! I have a new Boy Toy!!!!!! A certain young tripawd pup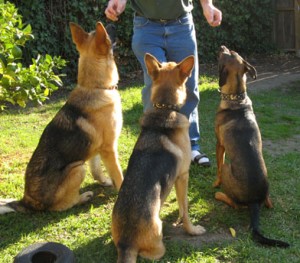 has come to stay with us for a bit. Yeah! Hey, dude, this boy doesn't even know how to play! But, as you can see on Wyatt's latest post, we are just the crew to teach him the ropes and he is catching on fast!
My pawrents are fostering Travis Ray for GSRNC. He is from Monterey and has had a pretty nasty life up until his rescue. We dont even know all the details and are not sure we want to know…..But he has not let life get him down and he is just as sweet and frendly with everybody as if he had grown up in the most perfect of homes. He is scared of strange things (like towels) though and, like I said, doesn't know a Kong from a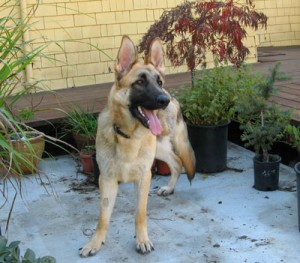 Holee Roller.We don't know much else about him yet, as he just joined us yesterday–he has had no accidents in the house, he rides well in the car (in a crate), he slept all night in his crate last night, and spent time in it today w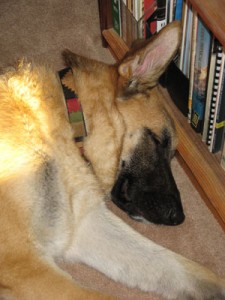 hen my pawrents were both out (about 2 hours at a time) with no apparent issues. Travis Ray is about 11 months old and he is tall! He is twice as tall as me! He is already getting around pretty good–his amp was on October 13. Stitches are out and all. He is still building up his strength and spends a whole lot of time sleeping.
If you live in Northern California and might be interested in giving Travis Ray a loving home let my mom know. If you are a tripawds member you can send her a PM over on the forums. She can hook you up with GSRNC. Check out their website and their adoption protocols.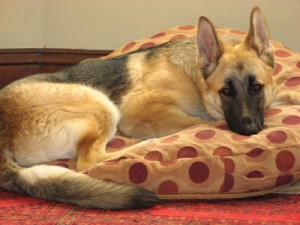 They are pretty strict and my mom will be even stricter! Travis is a real sweetheart but he is also a GSD and will need a firm hand and loving heart to help him be the best tripawd he can be!
p.s. TR is known as "Caruso" on the GSRNC website…….