Yo Everypawdy!
So I had this lump on my neck……1 surgery and 1 biopsy later–no more lump and it was B9! Most excellent, dontcha think? Travis Ray had to copy me and get a lump too. His was B9 too! Now we are having a contest to see who can grow their fur back faster! TR is ahead, dang it!
So, while I was playing Bingo I became a millionaire!! Me 'n Patrick busted a million views last night–WOOOOOOOOOHOOOOOOOOO! Here's the proof!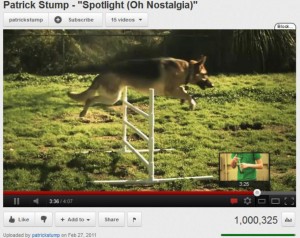 That means a million peeps (well maybe 998,000 peeps because my mom and pop have played that video AT LEAST 2,000 times) have seen ME, Codie Rae, representing all YOU fabulous tripawd warriors, and rescue dawgs everywhere. Those peeps are still talkin' about how COOL I am, how they didn't notice I was a tripawd until the 25th time they watched the video, how I bring a tear to their eye, etc, etc. I can't tell you how proud I am, not for myself (well, maybe just a little), but that peeps are seeing my video and learning that tripawds R.O.C.K. If it wasn't for Tripawds, I wouldn't be here. I am so happy to pay it forward and, I know I've said it before, but I mean it……..If my moment in the Spotlight results in just one lonely tripawd finding a furever home or one family realizing that amputation and life on 3 legs is a real option, not a death sentence, then I will die a happy, hippy, hoppy dawg! We don't need no stinkin' pity, we don't whine and moan about our poor lost legs, we just get on with living life one day at a time and lovin' every minute of it! Yesh we DO!
XOXOX, Codie Rae
p.s. In case you are new around here and havn't seen me 'n Patrick kickin' it check it out!  Plus you can see the whole story of how the video was made here.